Hello, Hallo, Bonjour, and Hola! These are just a sample of some of the different languages I've experienced during my European adventure. Although I now find such language diversity exciting, I must admit I was initially a bit intimidated.
So, let's start from the beginning. Our first stop on our adventure was Berlin, Germany. Upon my initial arrival, I was more than overwhelmed by the language barrier. As a person who has studied multiple Romance languages, I must say I never imagined myself traveling to a country without knowing one word of that countries language. Frankly, I was frustrated by my lack of ability to adequately communicate or understand the culture around me. Soon after arrival, however, I had grown accustomed to the situation, and found that learning about a culture by blindly immersing myself in it was actually a little exciting. Luckily, some people knew English and were open to help us during our journey. I learned a few German words, I learned how to navigate the subway/train by using a visual map (very useful if you want to get around quickly and explore many different locations), and I met some very interesting people during my time in Germany (which was one of my goals for this trip!) So for those of you who are traveling to a country where you do not speak the language, I advise you to just accept that you may potentially be a little overwhelmed, but to try to overcome that feeling and use it as a catalyst for learning.
As far as successfully completing my goal of immersion, I must say that stepping out of my social comfort zone has been the most rewarding aspect of my trip. If I hadn't purposefully reached out to the people around me or hadn't been responsive when people reached out to me, I wouldn't have met Lad and Dimitri, successful French cardists with a huge social media following, or Frederic, a Ghent native who works in architectural design and told me about more Ghent history than a tour guide ever could. I've enjoyed these personal moments more than any tourist attraction I've seen across these countries. Don't get me wrong, I loved seeing old palaces and cathedrals in Dresden, Germany, and going on a Segway tour through historic Brugge, Belgium, but talking to the local people around you is just the icing on the cake of adventuring to a new place.  Reaching out to people in Europe is similar to reaching out to people in the United States: you just have to say hello.  If they are unable to speak with you because neither of you speak the same language, or if they just frankly don't respond, do not take it personally, and try again with someone new.  Pay attention to social cues (the best that you can considering you are in a different culture), and have some confidence in yourself.  Positively embrace the challenge and I truly believe it will get easier as you spend more time in your foreign country.
Europe has been more amazing than I could've ever imagined. I've loved getting to know different cultures and experiencing the delicious cuisine Europe has to offer.
I'll end this post with one of my favorite pictures I've taken on this trip.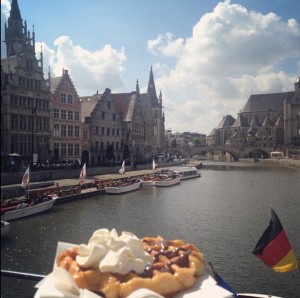 Here is a picture taken directly outside my hotel in Ghent, Belgium. This view of historic Ghent as well as my delicious Nutella drenched Belgian waffle ( a Liège waffle to be specific) was seriously one of my favorite moments of my trip. I had a wonderful view and a delicious treat! The soul put into the architecture in Ghent seriously captured my heart. I hope to one day go back to Ghent and fall in love with the city all over again.