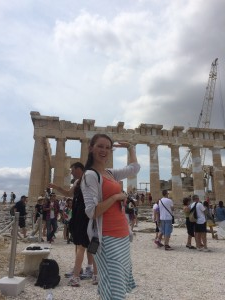 Me holding up the Parthenon
UA in Greece started off ou r day with an awesome breakfast at our hotel and I even tried a pastry from Dr. Summers' hometown of Thessaloniki. We then walked to the Agora and had lecture there. After lecture, we got to explore the Agora Museum and there were some really cool artifacts. Lecturing in different places all over Greece has been very refreshing to get out of the classroom and see firsthand the things we are learning.
We saw the Hemlock cups that were used as the death penalty. Socrates was forced to drink from one for his execution.
From there we walked up the hill to Mars Hill.
From there we went up to the Acropolis and explored all the remaining temples. Amazing how these buildings are still standing after all they've been through and how long they've been around for. The Parthenon was even hit by a cannonball….
We then walked to the Acropolis Museum and explored there. We all got in trouble for taking pictures of artifacts we weren't supposed to…. Whoops 🙂 the museum had a lot of awesome things from the Acropolis and the Parthenon, even a Lego model of the entire Acroplois with Elton John playing in the theater. Even bought a mythology book from the gift shop!
After the museum my roommate Holly and I adventured around Athens and found the Melissinos Art aka the Famous Poet Sandal Maker and bought some Cleopatra style handmade leather sandals. the owner and maker of the shoes, Pantelis Melissinos, was in the shop that day and basically hand crafted mine to make the straps fit my feet perfectly. Interacting with him was very cool and I even tried to speak a few words of Greek and he seemed to like that. He was very kind and sweet and visiting his shop has been a delight and one of my favorite experiences in my trip so far.
We made it in time to catch the changing of the guards on the top of the hour at the Parliament building. Was really cool and even got to take a picture while the guard was a stone statue!
We all dressed up for a fancy dinner at Ancient Tastes where we ate what the ancients ate (must've been the rich ones). Was pleasantly surprised that I liked everything I tried! And I tried everything! The salad was even really good, I'm a whole new person abroad it seems.
Interacting with the native Greeks has been very enjoyable so far and they are all so nice. It's crazy to me that most Greeks can also speak English and most signs also have English translations on them. I don't feel scared walking around Athens but it is kind of unnerving having riot police stationed on the corner of your hotel's street when back at my home in California we rarely see our police just stopped and standing around all together somewhere.
Avtío,
Alicia