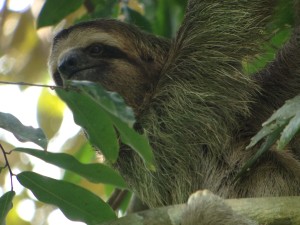 So there are only a few days left in Costa Rica and I don't want to think about having to leave this beautiful country. Everything has been great from the people to the wildlife, which will make departing ten times more difficult.
It is so hard to pinpoint the best places to visit because there are so many "unique" and beautiful locations throughout. I am really glad our professors planned a well organized trip that allowed us to travel all throughout the country from volcanoes to the forest to the beach. This allowed us to learn about different ecosystems and different wildlife as well as learn from locals living around these areas. Everyone is super friendly and helpful even if you can barely speak Spanish. The whole atmosphere is just fun!
There was not much of a culture shock for me. The biggest shock was most places do not allow toilet tissue to be flushed down the toilet (Gross!) because they don't have good water treatment facilities so it goes to ocean.
One of my favorite parks we visited consisted of a forest and a beach. We hiked for hours and saw lizards, sloths, and howler monkeys. Then we could cool off at the beach and swim in the beautiful blue water. We learned a lot about that particular forest and biodiversity while at the same time having loads of fun!!
Everyday was an awesome experience and everyday was an adventure. It was really exciting to have the opportunity to experience so much of a country in such a short amount of time. We say the volcanoes, beaches, forest, and were able to meet locals. At the same time we were able to learn so much about the culture and conservation it makes you appreciate everything that much more.