Studying abroad was one of the best choices I have made in my life, and I think about Rome and my time in Europe hundreds of times a day. Here are some of the best things about Rome and what I miss the most:
In no particular order:
Italian Coffee: Nothing is better than walking into a bar and ordering a caffé or a cappuccino. Just make sure not to order a cappuccino after 12:00 pm, as Italians view it as a breakfast only drink.
Porchetta Sandwiches: Porchetta sandwiches are the best lunch ever. The savory pork strips combined with soft bread makes for a great sandwich. Some places will slice it right in front of you, and some of the more popular places will make a bunch of sandwiches ahead of time in preparation for the lunch rush. You just walk up to the counter, grab one, and pay. Either way, you can't go wrong.
Piazza di San Pietro: Saint Peter's Piazza is my favorite place in Rome. The Bernini designed oval space is gorgeous and incredibly historic. I look looking up at the dome and marveling at the importance of the sight. Make sure to also check it out at night.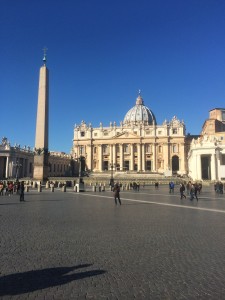 The Pantheon- This perfect ancient Roman dome was turned into a Christian church and also houses the tomb of Vittorio Emanuel II and Raphael. On a sunny day, sunlight will pour in from the open hole at the top, making for a cool effect on the floor.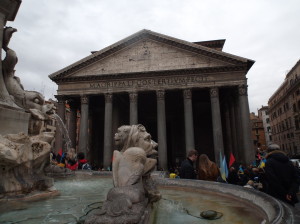 Campo de' Fiori- The main outdoor market of Rome, Campo de' Fiori is the best place to buy fresh fruit, vegetables, nuts, and herbs/spices in the city. They also have stands selling Balsamic vinegar and the best olive oil. I went there a few times a week to get walnuts.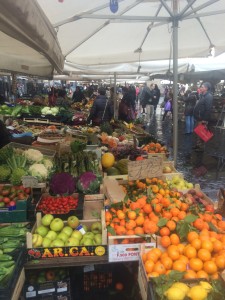 The Colosseum- How can you not love the most iconic building in Rome? In the summer months, you can even do a night tour!
Art- Rome is filled with examples of ancient, medieval, Renaissance, and Baroque art. Walk into any church and there's a good chance you will run into a Michelangelo, Raphael, Bernini, or Caravaggio.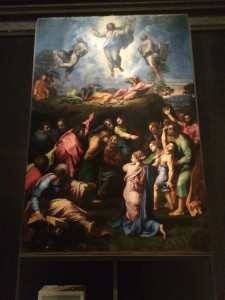 Gelato- The best gelato comes from artisan shops. You can tell it's the real deal by looking to see if the staff keeps it covered with a lid when they aren't going in for a scoop.
Trains and planes- Thanks to the Termini and Tiburtina train station and two different airports, all of Europe is at your disposal. Ryanair, Easyjet, and Vueling are all low cost airlines that have student-affordable tickets to a multitude of destination. For example, I was able to travel to Athens, Greece for less than $50 roundtrip! For inter-Italy trips, trains are definitely the way to go.
Trastevere- Home to John Cabot University and so many good restaurants, Trastevere is one of the most vibrant neighborhoods in Rome. My street, Vicolo de Cinque, is one of the busiest and most popular hangouts in Trastevere.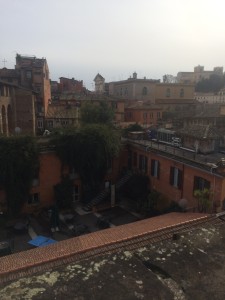 Il Duca- On my first night in Rome, my roommate and I decided to try out the restaurant directly below our apartment. Four months later, Il Duca is still my favorite restaurant in all of Italy. Their food is authentic Roman, and the owner is there all day cleaning, prepping, and serving. We say hi to him every day, and he always greets us and asks us how we are.
I can easily say this has been the best four months of my life. I made so many great friends from all over the country, and I already have booked plans in order to see some of them. I pushed myself to try new things and got out of my comfort zone (Riding a horse? Check. Eating pasta with cow intestines? Check.). And I wouldn't have been able to accomplish everything without the help of the University of Alabama and particularly the staff of the study abroad office.
Study abroad. You won't regret it.