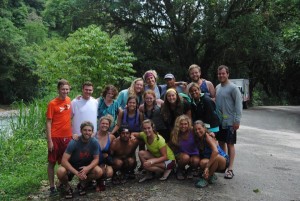 The last part of our trip in Costa Rica with service to Panama was patrolling for sea turtles at San San Pond Sak, an organization created to save these beautiful creatures.
At San San Pond Sak we were back to sleeping in a dorm like building on bunk beds instead of the floor of tents like we had spent our last five nights. This fact is important to show how our perspectives had changed since we first got to base camp back in Costa Rica. At the beginning some people did not care to shower at base because it was not clean enough or warm enough and by the time we were on our way back we were overly excited for bucket showers and running water. Our entire group recognized this amazing change in ourselves and even greater than our change in perspective was our gain in respect and appreciation for what we have here in the United States of America that sometimes we tend to take for granted.
At San San Pond Sak we learned that a leatherback turtle egg can be sold for fifty cents and every kilogram of turtle is worth five dollars. With leatherback turtles laying up to eighty eggs or more each time they come to shore and with the turtles themselves weighing in at five thousand kilograms or more, Panamanians in recent years began poaching them for profit. San San Pond Sak was created as a group of volunteers to protect these amazing creatures not only from humans but from other predators in nature as well. Because turtles come to shore to lay their eggs at night we were divided into three separate groups to run patrols. One from eight to midnight, another from ten to two, and the last from midnight to four.
I was fortunate enough to be in the group that went from midnight to four and got to see a leatherback turtle laying her eggs in the sand. Her shell was at least six feet long and wide and her head probably weighed more than my entire body. When she moved her fins in the sand to cover her eggs she sprayed all five us in our group with sand. It was an amazing sight to see this turtle in her natural habitat and watching her crawl at least one hundred feet across the beach and back into the ocean. Once she left we had to dig down in the sand to save her eggs, take them back to the hatchery where the volunteers will care for them until they hatch sixty days from now and then release them back into the ocean where they will be safe.
I wish I could show a picture of the leatherback sea turtle that we helped but due to the nature of the project and so as not to scare them away at night we were not allowed to take pictures. The above picture is the whole group of us at the end of our trip.
After we helped with the conservation of the sea turtles we ended our trip with a white water rafting adventure and then before we knew it we were on our flight back to the United States. The white water rafting was a great way to end an amazing trip with an amazing group of people. By that time we had gotten to know each other so well that it was a great way to bond before we all left and went off into our own lives for the summer. When we got back one of the teachers that took us on the trip gave us a quote that I think sums up the trip perfectly and that I will continue to believe in throughout the rest of my life. He told us "Nothing is more damaging to the adventurous spirit within a man than a secure future". I think too many times us college kids become so preoccupied with the unimportant things in life and worry too much about where were headed that we do not take the time to look at where we are and every once in a while take some risks. This trip taught me just how important it is to do that in life.