I chose to study abroad because I believe that studying abroad is an invaluable opportunity. My research professor, Dr. Anthony Arduengo, offered to take me abroad during the Fall 2014 semester, for the Spring 2015 semester. I did not have any other decisions other than to commit to the trip and figure out the details later.
To prepare to go abroad I began notifying everyone that I was involved with. This included Alabama Crew, Student Housing, Bama Dining, and of course my roommates. With finals and classes up until two weeks before I left, I really did not have time to prepare mentally besides telling my roommates that I was going to miss them. There were jokes about how fattening the food was and in what shape I would return. They predicted a more round shape.
I began to get quite excited as the deadline approached, while being quite nervous about the language barrier. Before setting foot in Germany, I had not received any formal German education. I was going to a country where I was illiterate! Obviously this made me nervous, but I knew that I could learn it.
One of the things I was really looking forward to was becoming fluent in another language, and traveling throughout Europe. Fluency in three months is quite difficult, but I thought I could make it happen. I also hoped to learn about the culture and the people of Germany. As far as I knew at the time, German people only ate bread and beer. Spoiler: I was embarrassingly wrong.
Traveling wise, I would planed on at least going to Paris, Frace, Chur, Switzerland, and Tirano, Italy.
As the days before my departure grew smaller, I made sure to see my friends and family as much as I could. The night before my flight, I made sure all of my bags were packed and ready to go. I was scheduled to leave on New Years Eve, at 6 am. This naturally got in the way of bringing in the New Year with my friends, but I did it anyways. I got a whole eighty minutes of sleep, and was off to the airport! I made it through security and to my gate in a record 35 minutes. I was on my way to Deutschland!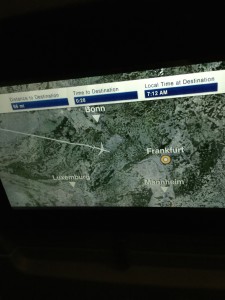 I took this as the Pilot told the passengers that we were about 15 minutes out. Every flight attendant spoke German, English, French, and I think either Swedish or Dutch.