I'm midway through my first week of a semester in Prague, and I am  loving the beauty of this city. School hasn't started yet, but I feel like I've learned so much already. Okay, more like I've learned how much I don't know. First of all, there is a reason they call it culture shock. It is shocking! And overwhelming and challenging and breathtaking.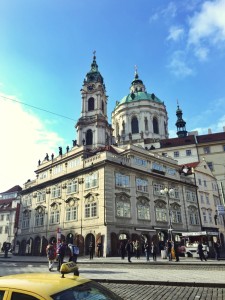 Keeping a travel journal is something I am working on. It's my opinion that two of the Internet's biggest plagues are lists and oversharing, so I'll probably keep my list of goals for the semester sealed in my notebook (should I add: "stop being so cynical" ?) Anyway, I'm excited to see how much progress (prague-ress) the semester brings.
I've had a few days to explore, get lost (pretty lost right now), and generally get to know the city and the transit system. The metro and trams make navigating the city simple. I carry an access card, and occasionally the police stop people to check it, but most of the time it runs on an honor system. The food is awesome. More details to come. The biggest challenge is the language barrier. Many people speak English, but not everyone. It's a real challenge to not know the language, and I feel like a stupid American about 70% of the time. Something I love about not knowing Czech is how much I am learning about strong visual communication, both in advertising and reference media.
I share a flat with 4 other American students, and we are becoming friends very quickly. We're all pretty different, but we get along well and have a good time together. Our apartment is close to downtown, and we enjoy walking around the city. We walk so much in a day!
A few things I've learned so far (did you really think I would get through this without making a list):
-When you have a baby in the Czech Republic, you choose from a list of names, and if you want to name your child something new, you write the woman that controls the list and petition to add a new name.
-The Czech Republic is one of the most irreligious countries in the world. A lot of that has to do with their history and previous rulers, and I want to learn more about that.
-Eye contact with strangers is not a thing, so I'm trying to knock the Southern smile/wave down to a sullen stare at the ground to fit in. It's easy. I just have to pretend I hate everything, and then it works well.
-Dogs are everywhere. Well-behaved, quiet little dogs with no leashes running around beside their owners. It's not really okay to pet them though. Probably (prague-ably) in line with keeping interaction with strangers at a minimum.
To sum up this week: "wow so many options." There are bars, restaurants, museums, parks and castles stacked all around, and it's great to check (czech) them out ! I miss the comfort of Alabama, but I love the challenge of Prague. (how many times have I used the word challenge in this post?) Anyway, I'm happy to be here. There's great value to getting to know yourself outside of your own culture & I'm so excited to get to do that in such a beautiful and historic place!