"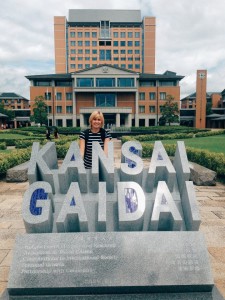 こんいちは、バマ!Hello Bama!
How do I begin to describe the span of my incredible adventure in Japan? I've seen so many things, gone so many places, and learned more than I ever thought possible. I hope I can adequately convey the way Japan has captured me completely.
From the moment I stepped on campus, I was surrounded by students from over 50 different countries who were interested in who I was and where I was from. Thanks to Bama, I also had a few friends who had studied in Alabama previously. All the Japanese students were so friendly and I met so many just by sitting in the lounge in one of the school buildings!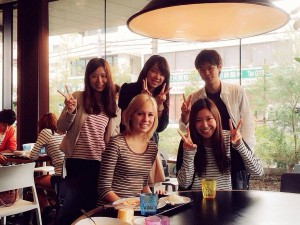 Pictured here are a few of my new friends, and my speaking partner (seated, in the stripes next to me), eating lunch in one of the beautiful Kansai Gaidai buildings!
I learned so much in class with some of the kindest, most helpful "sensei's" ever. I was so happy to see how much my Japanese improved throughout the semester, although there were many days I would go back to the door, my mind absolutely exhausted from thinking and communicating in a different language all day long! Luckily, as the months went on, it all felt far more natural, and my friends and I often have conversations with both languages being used in the very same sentence. Pictured below is my speaking class, where we learned Japanese grammar structures and pronunication!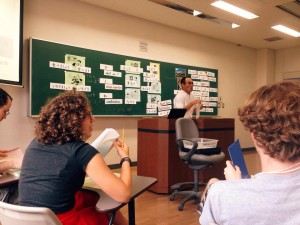 Compared to America, Japan is pretty small. That worked in my favor, however, as I was able to visit so many different places around the country, without minding an overnight bus or a bullet train ride because I'm so accustomed to traveling around the US. Some of my favorite times were when I went to Fushimi Inari Shrine (located in Kyoto, only a half an hour from campus), Hiroshima Peace Memorial Park (about 5 hours by bus from campus), and Miyajima, an island off of Hiroshima. It was absolutely breathtaking to walk below the red torii gates in the shrine and remember the tragedy of Hiroshima. Below are all three of the preceding places mentioned!
Of course, a trip to Japan wouldn't be complete without going to Tokyo! One of my Japanese friends and I took a weekend trip there to see a mutual friend, and were able to go inside the Tokyo Tower. What a view! Tokyo Disney Sea was also a must-visit (it's unique to Japan, so we decided to go there instead of Disney Land). We spent a whole day there, and rode nearly every ride. I think we all agreed that the "Tower of Terror" and "Indiana Jones" were the best attractions. Below are evidences of my time at the Tokyo Tower, and at Disney Sea in front of the "Journey to the Center of the Earth" attraction!
Another awesome feature that both Bama and Kansai Gaidai have is the speaking partner program. I submitted an application before my departure and was able to recieve a speaking partner before even arriving in Japan! It was such a comfort to have someone meet me at the airport, help me adjust to life in Japan, and go traveling with! Pictured below is my lovely speaking partner and I under the fall leaves of Nara, Japan (located about 2 1/2 hours from campus).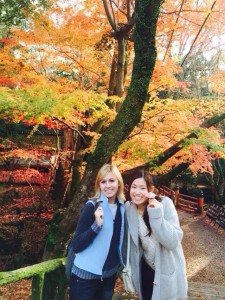 Two of my favorite views of Japan is the city of Hirakata from the studio art room in the Center for International Education on campus, and the beautiful scenery of Tennouji (about an hour away from campus). Apparently this particular view of Tennouji is pretty famous, and I can see why! It definitely embodied the culture of Osaka and its flamboyant and happy nature.
My time in Japan was truly wonder in every way. I'm so happy I was able to go so many places and make so many incredible friends in such a short span of time. Luckily for me, my time in Japan isn't over yet! I will be returning next semester after winter break and pick back up right where I left off. I'm so excited to see how much more I will improve and where all second semester takes me. So, here's to study abroad, Japan, Bama, Kansai Gaidai, and this incredible journey.