Christmas celebrations begin early in Denmark– 8:59pm on the first Friday in November to be exact. At this time, Tuborg's holiday edition of beer comes out (J-Day!). This night is so fun as the streets are more crowded than ever and everyone is wearing Christmas hats and other Christmas paraphernalia yelling "Skal!" (cheers) at the top of their lungs.
When December finally hits, you would think the Danes are tired of celebrating, but no… not at all. Christmas markets pop up on the streets and decorations are everywhere. In Aarhus, the twinkle lights above the main street are lit up the first Sunday of December.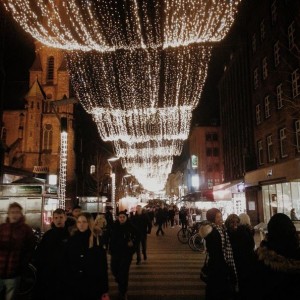 Special foods are also available at this time. Most well-known is aebleskiver and glogg. If you're ever in Denmark around Christmas time you must get these two things together! Aebleskiver is like pancake balls and glogg is a special type of warm wine. Groups of friends go out to cafes and get this while chatting. Danes are very relationship-oriented so spending quality time with friends and family is always a priority. For that reason, cafes, especially by the canal, are a fun place to go as many people are there and everything is so cozy. Even in the harsh windy, cold air, you can sit outside with blankets provided by the cafe and heat lamps.
Shopping during the holidays is intense. Locals told us that "black Friday" shopping is a more recent development in Scandinavia that wasn't an event prior to a few years ago. Most major shops are along the main street– which is an all pedestrian street– and is very crowded. Coffee shops fill up as people take a break from the cold and walking.