I sighed taking in a deep breath of the sea air and feeling the warm sunrays soak into my skin. The transparent water broke gently along the pebbled shore. I don't know exactly what I pictured when I signed up to study in Jordan but lying on the beach, in a bikini, sipping a pina colata definitely wasn't it. When asked  the Middle East, most people picture masked gunmen yelling angrily in Arabic or silent, oppressed women covered head-to-toe in a niqab. What you don't hear about is the sheer beauty of much of the Middle East.
This particular week, right after classes ended, some friends and I took a 4-hour bus ride from Amman, the capital of Jordan, to Aqaba, the only coastal town in the country. Aqaba has been incredibly important for Jordan, serving as a reliable port of the almost-landlocked country while its neighbors are embroiled in conflicts. However, Aqaba has also grown into a popular spot for tourists from around the Middle East and the world.
We arrived after sunset in the evening and grabbed a quick dinner at the hotel before going for a peaceful stroll along the beach. We sat and just looked out across the Red Sea. Reflected over the clear sea, in the moonlight, were the shores of Israel and Egypt. Behind us, the rocky mounds of Saudi Arabic obscured the view.
The next morning, my friend Jordan (yes, that's his name), and I got up first thing and ran round the harbor to the beach. Unfortunately, Jordan was a little too keen to go swimming so he jumped in with his iPhone 5 in his pocket. The Red Sea water didn't agree much with the phone but apart from that everything about the moment was perfect. The water was just the right chilliness to compliment the warm weather and the water was so clear that you could literally see small fish swimming through patches of coral. Since it was the off-season, there were very few people on the beach so we easily found umbrellas to lounge under. The rest of the day was spent alternating between lounging under cabanas and jumping off the pier into the crystal clear water.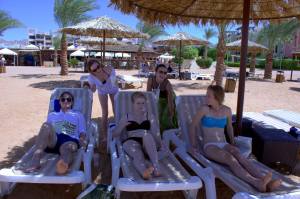 Me (far right) with a group of fellow study abroad students relaxing on the beach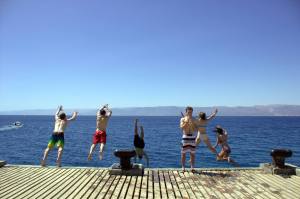 Jumping off the pier into the Red Sea, across the sea is the Israeli coastline.
So, next time someone mentions the Middle East, maybe bare in mind the wide range of places and beliefs that exist. Hopefully you'll even get a chance to visit sometime and experience the breathtaking views of the Red Sea!