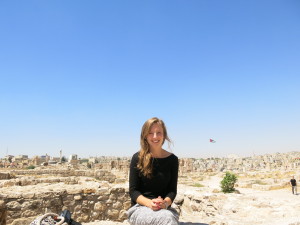 The reaction played out so similarly every time that I came to expect it. My friend or family member would ask about my plans for the fall to which I'd reply that I was going to Jordan. There was always a moment of surprise followed by a look of confusion and slight embarrassment. "So where exactly is Jordan?" was often the follow-up question.
My travel abroad experience was actually based on a very similar question. For as long as I can remember, the Middle East has featured prominently in world events. I had been reading about conflicts in the region since I was old enough to pick up a newspaper but still knew so little about the area. Where was Jordan? How interconnected was it to Syria and Iraq? How did people in these countries live? What was their opinion of America?
While I knew I wanted to study in the Middle East, my decision to study in Jordan was really made for me. The only Arabic-speaking countries that the State Department recommends travel to are Jordan, Morocco, and Oman (although Oman recently refused to grant some American students visas). So, I sent in my study abroad application and 6 months later found myself at the airport in Amman, Jordan.
Having just pasted the halfway point in my study abroad experience, I continue to be surprised by both the similarities and differences that exist in Jordanian culture. In Amman, many store signs are written in Arabic and English, and many women do not wear hijab. My classmates and I can sit in Starbucks sipping Pumpkin Spice Lattes in total safety, despite being a mere 50 miles from the Syrian border. In fact, during orientation one of our program leaders reminded us that "this isn't Chicago" when a student suggested not riding in taxis after dark for safety reasons.
However, sometimes there are events that catch me off-guard and remind me that I'm no longer in Alabama. The day before Halloween, we received an email from the American Embassy that the government of Jordan had banned all Halloween parties and people wearing costumes in public would be arrested. My friends and I still made pumpkin pie in one of their apartments but it was weird to not have children knocking on our door, parties to attend, or bags of orange candy at the supermarket. While Jordanians are generally infatuated by American culture, Halloween seems to be a glaring exception and October 31st passed almost like any other day here.
So despite living here for the past 2 months, Jordan continues to surprise me and is still an adventure. I can't wait to fill you in on my journeys throughout the rest of the semester; but for now, as Jordanians are constantly saying, "Welcome to Jordan."