Que tal,
Oh my goodness y'all. Barcelona is absolutely insane. I am very sorry that I haven't posted in quite some time. I don't really have an excuse besides the fact that Barcelona is insane. Since my last post, I have been to Valencia, Narbonne, Toulouse, Carcassonne, and Amsterdam. I have also explored Barcelona a great deal and should be heading off to Prague in a couple of weeks.
But back to Barcelona. In all honesty, I thought communicating would be hard here because everyone would want to speak in Spanish or even worse, Catalan, but it is just the opposite. When people realize you speak English, despite your Spanish skills, they want to speak English with you. It is a glorified language and culture and Spaniards love to talk about America and what life there is like.
People here are across the board passionate and welcoming. On the 9th of this month, Catalonia (the region in which Barcelona is located) will be voting for their independence from Spain. Though this is unconstitutional, the Catalan government decided to defy the national government and go on with the vote. Every night at 10pm for the past week, every person in Barcelona goes out on their balcony and bangs pots and pans in recognition of the upcoming vote. It honestly makes me so happy when I look across the street and see old woman and children banging pans and yelling things in the official language of Barcelona, Catalan. Catalan in Barcelona is spoken more widely than Spanish. If you're planning on studying abroad here do not let it worry you. It is impossibly hard to learn and everybody either speaks Catalan and English, or Catalan and Spanish. So brush up on your Spanish skills, but even learning how to say "thank you" in Catalan is a relative waste of time.
Valencia was insanity. We did not have many cultural activities set up beyond "getting lost in the city" (this silly thing this kid in my program likes to say whenever he gets to a new place). We traveled around, went on a little tour, learned some history, check out some churches, etc.. but to end our last night we went to a club in the middle of the city which was the most ridiculous building I have ever been inside. It was built by Guadí and they transformed this huge architecturally stunning building into this absurd three story club. It was quite an experience and a lovely environment for me and my friends. Toulouse was pretty interesting. It is a small city in Southern France so we did what you would expect: ate crepes and listened to accordion players in the street. The bunker was brilliant. It is this abandon militant bunker up in the mountains a few miles outside of the city. We hiked out there and watched the sun set and I probably took a hundred pictures (all of which you can see on my facebook). As I was sitting there with my wonderful new friends, watching the sun set over the city, with the light bouncing off of La Sagrada Familia, I asked myself how will I ever leave.
I honestly ask myself this question most days. The people, the city, the beach, the clubs, the bars, the schools, and the pace of life are unparalleled to any place I have ever visited. Honestly the only thing that makes me at all homesick is when I think about my mom and the rest of my family, Zaxby's, Chic-fil-a, driving, and Alabama football. When these things come to mind, I am reminded why I need to eventually leave. So much so that right now I am struggling to think about all of the amazing things about Barcelona, and I just want to pour Zax sauce down my gullet at a post-church family lunch.
If you want to see my pictures (I have taken more than 1,000 since I have been here and posted maybe 400) go to:
https://www.facebook.com/chandler.coston/photos_all
Here is one picture I took of a few of my friends on top of La Pedrera. Alex is the one in black, she's pretty great.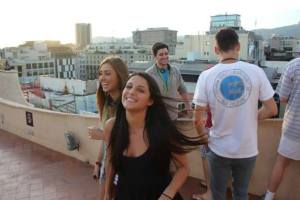 Thank you for reading and I'll be in touch! Adéu! (That is "bye" in Catalan)
-Chandler Coston