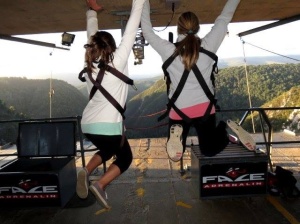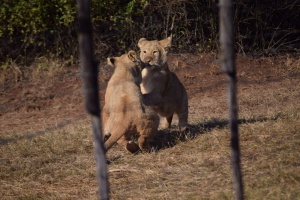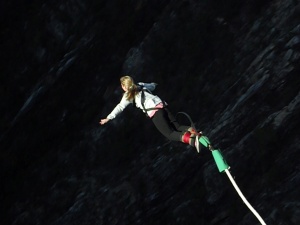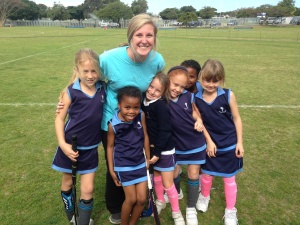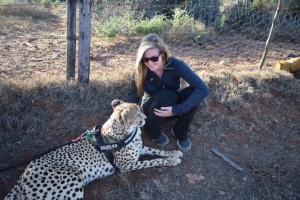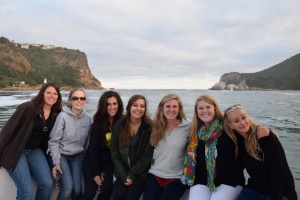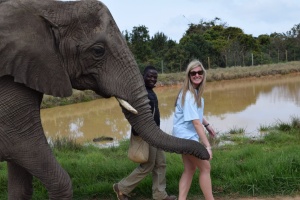 First Impressions – What were your first impressions when you arrived in your host country? What thoughts were running through your head? How did you feel? What situations/experiences did you encounter when you first arrived? What was new/different/interesting? What is your first picture that you took abroad?
When I first arrived in South Africa, I felt like I was in California almost. Port Elizabeth is an amazing coastal city and everyone has been incredibly friendly. It is not stereotypical Africa by any means. We are very fortunate to be in the area we are in. So, I would have to say my first impressions exceeded my expectations. The first picture I took was the beach view from when you walk outside my apartment.
Favorite Thing about Host Location – There are many reasons we fall in love with the place we study abroad. What's your favorite thing about your host location (i.e., the food, the people, etc.)? Why? What makes it special? What will you miss most when you're gone?
My favorite part of my host location is the beach. I have never lived across the street from the coast, let alone less than a road trip away. The scenery is absolutely beautiful here and I will miss Africa's beauty so much. Even driving outside of town, I love the farmland, mountains, and African bush. The people have been amazing. Everyone is so eager to talk to you and we have had nothing but nice encounters with South Africans. I will miss the people we have become friends with very much as well as the little coffee shop we have come to know and love. We know all of the waitresses and it feels like we are regulars here.
Academics – What's it like taking classes while abroad? Who are your classmates? What are the major differences between the system of education you're used to and what are the major similarities? What's it like taking classes from a different world view? What adjustments have you had to make?
I am not currently taking any classes except for one online one. I am completing my student teaching internship so I will speak on behalf of that. The faculty and staff at Summerwood Primary are amazing. From the very first day, the principal welcomed us in and even said he would be our dad for the next three months. All of the teachers have been so nice, especially the two I am placed with. I did 6 weeks in Grade 1 and my teacher was great. She was like an assistant principal for the younger grades so she was really busy, but always made time for me. She also gave me a huge role in her classroom, which I loved. I got so much great experience. The schools are different from American schools, but not so different that I felt out of place. Mainly, the terminology is different. For example, they call grades marks, erasers are rubbers, taking a test is writing a test, and so on. They also have a much bigger focus on neatness and handwriting than we do in the United States. Their school does not include Kindergarten and goes from Grade 1-7. There are no middle schools here so high school starts with Grade 8. The primary school I am at is broken into the Foundation Phase (grades 1-3) and Senior Phase (grades 4-7). I just started in Grade 4 so I am getting to experience both phases. Grade 4 is when they make a big jump. They follow a bell schedule, have all of the subjects, take tests that are more structured, and have a lot more expected of them. It has been awesome to see education in a different country.
Excursions – Traveling to new locations is often one of the most exciting parts of the study abroad experience! What trips are you taking/have you taken to sites other than where you're studying abroad? What did you see? What did you do? Who went with you? Why did you choose those particular locations?
We have done so many excursions! The very first weekend we went to Addo Elephant Park and saw elephants, zebras, warthogs, and buffalo. Then we went and rode elephants! We have traveled to several surrounding cities including Jeffrey's Bay, Plettenburg Bay, and Knysna. We have walked a cheetah, stayed overnight in a private game reserve, walked elephants, beach horse back riding, bungy jumping, zip lining, swam with seals, and gone to local markets. We also plan to go to Cape Town on our spring break soon. We have done so many amazing things and seen the most amazing animals. We saw lion cubs playing, a 1 month old giraffe, and even had a rhino chase us while we were in a land rover. Seeing wild animals that close is unreal. We have done a lot of adventures through a company called Free Walkers, which was recommended by the girls who did our program last semester.
The Locals – Meeting new people from the host country is a guarantee while abroad. Who all have you met from your host town/country? What are they like? Where do they live? What do they do? What are the major differences between the locals and yourself? What do you find interesting/unique about them? Describe them!
We have met a lot of people that work at the school including some fellow interns. They are our age and doing the same thing we are so it has been easy to make friends with them. We also have met people through our adventures. They all live pretty close by. They are pretty much just like us! One of our guides has lived in America before so she is really easy to relate to!
The Language – What is the language of your host country? What language barriers have you faced? What funny misunderstandings have occurred? What are you doing to learn the host language? If the language is the same, is the accent different? What unique phrases are common?
The main language is English so we have been able to get around fine. However, our school is bilingual and the second language is Afrikaans. Sometimes the teachers will talk in Afrikaans and it is very hard to understand. Like I said earlier, they also use English words to describe things, but we do not use the same terminology. Some other examples are a traffic light is a robot, a memo is an answer key, petrol is gas, surname is last name, take away means to go, and auntie is miss. They also say now now and just now, which do not mean right now! They mean later! Some of my students even speak Xhosa and I do not understand any of that.
The Five Senses – Describe your study abroad experience using your five senses. What do you see, taste, hear, smell and feel?
I see amazing beauty in the scenery, people, and animals. I taste great seafood as well as American and Italian food. I hear the sound of the waves crashing and a mix of languages. I smell food and the sea. I feel incredible. I am so happy I have been able to have this experience. It truly is once in a lifetime and I am so grateful I could be here.
Preparing to Return Home – Now that it's almost time to return home, what steps are you taking to get ready? What items have you collected on your travels that you'll be taking home with you? What thoughts or feelings are you having? Are they similar/different than when you first arrived?
I have bought a lot of gifts for friends and family so I might have to ship a box home to fit it all! I am excited to see my friends and family, but I could also stay a little longer. I am just trying to enjoy every minute and not wish it away at all!