It has been a while since my last submission as a Bama Blogger — but only because I've been travelling! When we all arrived, haggard and jetlagged, in Heathrow airport, we expected a week to get to know people and put our lives in order. However, as international students, we found that instead of a single week, we had two before classes began! Having explored Leicester during the first week, myself and three other American students (one from UA!) decided to take the plunge and leave for Paris.
We bought out tickets two days before our departure. We would take a coach to London to connect with another bus at Victoria Station, and that bus would take us to Paris. And all our travel for less than £50!
Wait. What? You can't take a bus to France.
Which is what people told us. There's a giant channel in between! Full of water! Only trains go through it! How could you possibly take a bus to France?
We began to get nervous.
At 4:15 in the morning we dragged ourselves out of bed and made our way to the bus station at Leicester City Center. We waited, freezing, in the dark, for our coach to London. The coach smelled like cigarettes and old fruit, but what do you expect for £7 round trip? The countryside was beautiful at dawn.
When we arrived in London we found our coach quickly. The driver only spoke French, so I used my single year of French to try to communicate. Translation became my job on the trip.
You see, we did eventually make it to Paris. As it turns out, you can take a bus to France. Here's how.
You get on a bus > The bus drives for hours and hours until you think you're going to die > The bus reaches the channel > You go through French customs > THE BUS DRIVES ONTO A GIANT TRAIN > THE GIANT TRAIN GOES INTO A GIANT TUNNEL > You ride in a dark tunnel, on a bus, on a train, for what seems like eternity > The bus pops out on the French side and continues to drive for another several centuries > YOU ARRIVE IN PARIS!
In total, we spent 9 hours on the bus, one way. And it was worth it.
When we arrived, we took a taxi to our hostel. Stressed, tired, and irritated with each other, we paid for our room and relaxed for a moment before heading out to see the Eiffel Tower, which we had noticed was not far away. We arrived five minutes before midnight, and when the clock struck 12, this happened: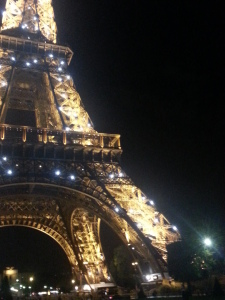 The Eiffel Tower sparkles at midnight! What timing. We had no idea!
We returned to our hostel and fell asleep within minutes. The next day, we woke just after dawn to catch the train to Versailles, which is bigger than you could ever imagine it to be. We spent eight hours exploring it on foot, and I doubt we saw a third of it. Here are a couple examples of just how large it is:
I couldn't even get it all into the frame. My friend took a panorama shot that still doesn't do it justice!
We returned that night and had a classic French meal, Croque Madame and a bottle of white wine. I don't know that I have ever enjoyed a meal so much.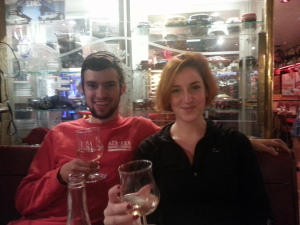 The next day, we took to the streets of Paris, learned to ride the Metro, and visited every major attraction we had time for. We went to the Arch de Triumph, the Louvre, Saint Chapelle, and, of course, French McDonald's, where you can buy macaroons:
Ahh, McCafé.
One of our last stops of the day was Notre Dame de Paris, where we prayed at vespers. It was unlike anything I had ever seen.
We went to a Parisian nightclub (Rex Club), had a petit dejouner, ate at an outdoor café (the only kind!) We spoke French badly with the locals, bought shoes in the shadow of the Eiffel Tower, and suffered gladly through the worst blisters of our lives. We rode the Metro, sat in a fifth-story windowsill at our hostel and looked out at Paris, and had some of the best coffee I've ever tasted. I spent just over £250 for a four-day journey — travel, accommodations, and fun! A weekender to Paris is completely doable on a  budget, and I recommend it to anyone and everyone studying in Europe — as long as you don't mind a long, long, coach ride!
Until next time!
Vive le France!