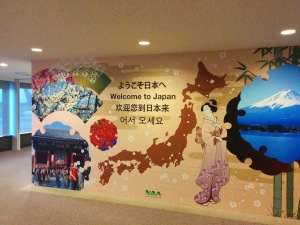 It's small. I stretch my legs out, and my chair runs into my bed on the ground – about 3 feet or so from the desk I'm typing at. To my left are a bookshelf and tall, narrow box that is my closet. Just past them is my "kitchen" – a mini-fridge, a sink, a pantry, and a single coil to cook my meals with. Directly across is my all-in-one bathroom. It's a sink, a toilet, and a shower all in one with a glass panel to separate it from the rest of the apartment. To shower, the sink can be swung over the toilet, and vice-versa when necessary. Within the size of a single bedroom, my apartment contains all the basic necessities for life.
I'm in my Japanese apartment at Chiba University's International House. It's small, and it's amazing.
By this point, the title of this post may seem confusing. I'm not coming to Japan – I'm in Japan. Canada is nowhere to be seen, and it's been 3 days since I was "pre-" to my departure.  See, I wrote the first half at McCarran Airport in Las Vegas (my hometown) as I was, in fact, waiting to depart. At the time, it was completely accurate.
I fell asleep. I woke up in time to get on my flight, and then, once more, I fell asleep.
Then comes the "Live from Canada" part. I wrote that during my 7-hour layover in Toronto, intending to make a witty, ironic post about studying abroad in Japan, while being – in Canada.
Again, I fell asleep.
So here we are! "En media res," so to speak. A timeless writing tradition I completely meant to invoke when I first set out to write this blog post – about a month ago. Sure I could have written a "pre-departure" post – ahem – before departing, but this is actually much better. Now I can tell you all about my experiences preparing for my study abroad experience, with the added bonus of hindsight! First bit of advice: Sleep is wonderful. Sleep as much as you can. Because once jet lag hits you, getting sleep is not going to be fun.
There's a lot to get done before you leave. In no particular order, I had to: get a passport, mail that passport to my local Japanese embassy, get a student visa, mail that also to the embassy, apply to the University itself, apply for the study abroad program at UA, look up scholarships, determine what I was going to pack, and reassure my parents that, no, going abroad would not be the death of me.
Do all of those things in a prompt manner. I tried to finish matters as soon as I was made aware of them, and that was definitely for the best. And be sure to communicate often with Capstone International. They're a really big help.
Figure out what you're going to pack early on, and it will be a lot less stressful when it comes time to leave. I personally packed light (backpack and small, checked suitcase), and it made the trip much easier. If you ever do research about what to bring when studying abroad, most sites suggest bringing the basics, and that's it. It's solid advice. You don't need two huge suitcases worth of stuff. Just two suitcases themselves would have taken up about half the space in my apartment, so that's doubly true in my case. Bring enough clothes to last you about a week and a half or so, your computer, maybe a couple books, and a few small toiletries. That's it. You're going to another country – not purgatory. They will have stores, or shops, or markets. You're going to be buying things while you're abroad anyway, so you might as well just save yourself the trouble of having to manage everything in addition to all the stuff you brought.
I was both nervous and excited before coming to Japan, and I still am those things now. It's perfectly normal to feel that way. If you've never been abroad before, you have no idea what to expect. Leaving my family and my friends behind for a country on nearly the opposite end of the world was daunting. It's daunting now that I'm here. But I'm optimistic, and I feel that my experience will be a good one.
Live from America  Canada  Japan, this DJ Helmick. Thanks for reading.