Wow. Cannot believe the time is finally here and I'm sitting in the Boston airport waiting to depart! I realized in my last post I didn't really give my background, oops! I'm Hannah and I'm a junior with a fashion retail major in the HES college! I love everything about UA, but it's time for a change. Growing up living, eating, breathing everything Alabama (growing up in Tuscaloosa and later moving to Mobile) I am so ready for a change of scenery!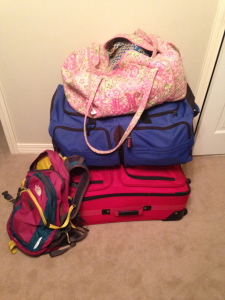 Miraculously, I managed to fit everything for the next three months in these bags. Ready to get this show on the road, meet new people, & experience life on the other side of the pond.
See y'all in London!
Cheers