アラバマの大学生へ、
Dear Students of the University of Alabama,
My name is Maja. I am a sophomore at UA, majoring in English and minoring in Japanese. And through the Capstone International Program, I am about to embark on the journey of a lifetime.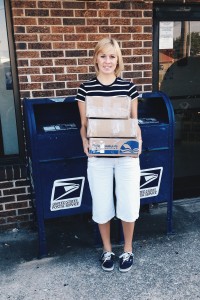 On August 24, I will depart America and take flight to Japan, where I will spend 8 months studying at Kansai Gaidai University in Hirakata City. I am so excited, as living in Japan for such an extended period of time will improve my language skills immensely. I will also be able to experience the country I have been in love with since childhood. I am thrilled that I was chosen to take part in blogging about my adventure by the University and for the opportunity to inspire others to study abroad!
For any students who are considering studying abroad or are making those decisions now, this post is especially for you! Living in a different country is something that has to be prepared for extensively and all that preparation can be very overwhelming.
I believe the most difficult part of preparation was simply obtaining and filling out necessary documents from UA, from KGU, for Visas, Passports, and other legal documents. It was both time and thought consuming because of the possibility of missing a deadline. There was also working hard all summer to raise money, booking flights, applying for scholarships, buying supplies, etc. The only way I was able to do it all was through the help of my parents and the Study Abroad Office!
The decision making turned out to be less stress and more fun than I would have expected. Initially, I chose Kansai Gaidai because of the large number of friends I accumulated there through study abroad students at my own school! But after researching further, I learned about KGU's convenient location and superior Asian Studies Program. KGU made it extremely easy for me to learn about different housing options, opportunities abroad and important connections. Plus, I was able to make a new friend in Japan before even arriving through their Language Partner Program! I am so excited to arrive and experience KGU firsthand.
As I am counting down the days, I feel a mixture of both excitement and nervousness. I'm leaving behind the greatest family and friends, but I'm so glad that I get this opportunity to learn and experience the world! Japan, here I come!
またね!Until next time!
Maja