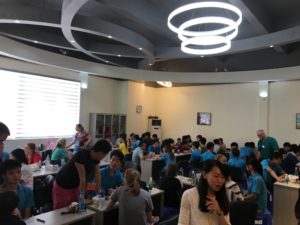 Is it possible to fall in love with a place after only a few days of being there? Because I think that has happened. Not that I love the heat and humidity of East Asia, or the pollution, or the lack of anything cold to drink. But I love the people. I love their receptiveness to our group. I love to see their brokenness and know that I can offer them something that no medicine or therapy can fix: I can offer them Jesus Christ.
Our first few days of medical clinics have been so cool. I've always read in my nursing textbooks about alternative therapies and Chinese medicine, but seeing these patients and treating them has made that all a reality for me. I feel like I've learned so much already about being sensitive to the medical practices of other cultures and how to truly listen to what a patient is telling you. It's been a really cool learning experience so far.
We've done a couple things so far that I would consider "cultural excursions." The first would be that some of us girls in our group walked to the court square one night where the locals do dances to music every night from 7:30-8:30. I like to call it Chinese Zumba! That's what it reminded me of. We were awful at the dances and we were sweating buckets when we got done, but it was so much fun!! Another thing that we did was go get Chinese massages. Wow, I didn't know I carried so much stress in my neck and shoulders! My poor masseuse had her work cut out for her.
The food has been a cultural experience of its own. It's official: I stink at using chopsticks. But I'm working on getting better!! I've never eaten so much steamed rice in my life. I guess that's what I get for being picky. The favorite meat here is pork, but it's cooked way different than we do it in America. I'm not too fond of it. Veggies are a big hit, but yet again it's veggies that we don't commonly cook in America. I'm surviving though (and I brought a stash of granola bars and Cheezits).
I haven't faced too many language barriers because most of the time, I have a translator with me. All of our translators are awesome; one even speaks nine languages! It's so cool to hear them speak fluently in two, three, four, or nine languages. They just bounce from one to another!
I wish our trip wasn't so short. I'm not ready to be on the down-slide of our trip. Only a few days left. I'm going to soak it up while I can!