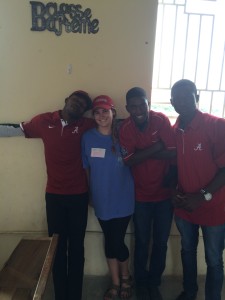 After a long, long day of travel, our team finally made it into Port-Au-Prince. However, the journey was just beginning. We gathered our luggage, hopped on a bus, and hoped to make it to our next location more smoothly than our prior travels had been. When we pulled up to the compound, it was a giant community encased by a large brick wall. The buildings were colorful, and illuminated the happiness in a place that was in dire need of help.  Throughout the week, myself and other business students at UA assisted about 24 local Haitian men and women in learning about business fundamentals, such as finance, marketing, and management. It was extremely rewarding to see their faces when they were able to grasp onto a concept such as "fixed cost" or "inventory management".
More importantly than teaching them these concepts, was forming relationships with them. One of the struggles we faced was the language barrier. The national language of Haiti, is French Creole. It was difficult to communicate at times, but with careful explanation and many examples, we were able to successfully help the locals with jump starting businesses.
When I return home, I am going to miss this place. I will miss the children in the orphanage next door, the kind, selfless people who attended our classes to learn, and the beautiful weather and environment that we were immersed into. The colorful houses, amazing weather, and delicious food prepared for us by locals will forever be embedded in my memory.