And Subway does too. This may come as a surprise for some of you (as it did for me too) when you travel to another country. Their rules and norms are sometimes completely different from the united states, which can be cool or sometimes even crappy. While living in Spain for a total of six months, there's a few things that you learn from every city you go to.
My first five months in Granada, Spain seemed very normal. I experienced the "typical" spanish lifestyle: paella, siesta, tapas, flamenco, and discotecas. When I reached my final month in Madrid, I began to see the differences in Spanish culture, as well as American culture, and one of the major differences was the food. In my host family's house, food and exposure was catered to my needs. If I didn't like something, I didn't have to eat it, but this isn't how things normally work. Once I started branching out to other restaurants and normal fast food, things were a shock but so much fun. I was able to try everything from new food from restaurants to a night with fancy wine with my friends. So here are some good and different examples.
During lunch on a day trip with UA in Spain, we went to a restaurant and all decided to get something new. We got patatas bravas which is like square cut potatoes in this deliciously red mystery sauce and sometimes this garlic mayo sauce. Another person got a partridge salad and an ox sandwich. The partridge salad looked like a square of tomatoes but tasted like cold chili. Our sandwich looked like a philly cheese steak sandwich, without the cheese, on a large donut shaped bread. All of it was so good and made such fun memories. The fun part about it was being able to say, "Remember when we got that partridge salad and ox for lunch? Or when so-and-so licked the rest of the chocolate from the dessert plate?"
Once, I went to an "all you can eat" buffet with my program. I was very interested to see what a buffet would be like in Europe because it is an American concept. At this point in my trip, I started to notice a trend of fish. There was tuna, salmon, and many others I didn't recognize. The dish that caught my eye the most was the seafood spaghetti. It had normal pasta with red sauce and the seafood of paella (shrimp, octopus, clams, calamari, and prawns). I was actually terrified to try this but the other options didn't seem much better. I tried it and it was surprisingly very good but I never would have thought of a combination like that before.
On our day trip to Madrid, we went to La Reina Sofia and for lunch grabbed an ice cream from McDonalds. After going inside, we saw that there were the normal lines with the cash register and another station with a pre-order option. This was something I only witnessed in Europe. You could go up to the order box like the ones at Sonic and order through the computer. On the other side of the McDonalds, there was a McCafe section with all of the sweets like lattes, frappes, cookies, donuts, muffins, and macaroons! So of course after seeing this, we had to try a macaroon from Spain, although the ones from Paris are fabulous (even from McDonalds).
There are a few cultural differences in Spain as well. They use a lot of olive oil, jamón, tomato, tuna, wine, olives, fruits, and bread. Jamón is a meat that is from a pig like normal ham. The difference is this is from the leg and is taken from the leg when you get ready to eat it. It has been salted for months and stays fresh for weeks depending on the quality you buy. There's practically jamón everything from flavored potato chips to salad. A typical breakfast dish is jamón and tomato on fresh bread with olive oil and a bit of salt. At first, jamón seems kinda gross to most foreigners who come to Spain but after a week or two, you'll feel like a native with how much you'll eat it. Olive oil, vinegar, and salt is eaten on almost all salads and tuna is in basically everything unless you ask otherwise (salad, pasta, empanadas, sandwiches, and there is even a tuna cake).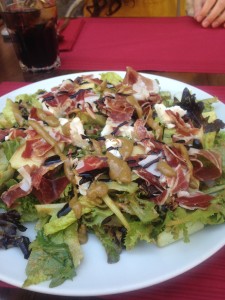 This is great if you enjoy all of things but it can be a little overwhelming at times. For me, the thought of that much tuna was too much. After a while, I gave in because the tuna there was fresher than the U.S. overall, I've come to love all things spanish food including their bacon that doesn't get crispy or lack of peanut butter but abundance of Nutella. I love the crazy amount of paella and the difference between the regions (personally paella with chorizo and chicken in the Andalusian region is the best… but that's just personal opinion). During our trip, our program took us to a restaraunt that served us basically all we could eat of paella. It was for sure in my top five of paellas in Spain.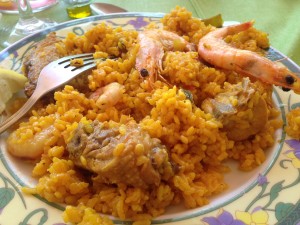 Although Spanish food is absolutely amazing, sometimes you have those days when you need a piece of America and want to eat a burger and fries from a local restaurant. And that is okay. Just make sure you ask for it without eggs or the "salsa blanco".